Featured Cards

Frequent Flyer Images
Insurmountable Opportunites
I may be lost...
On the Phone
Upgrades
Will you still love me tomorrow?
Monday
Though we travel....
If time is money...?
The world will never starve...
American Flag
The man who has no imagination
Coming Home
A journey of a million miles
The journey is the reward.
Airplane
Cancelled
Midnight bag to Georgia

Back to the main menu...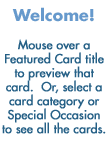 Choose an Occasion
Birthday
Kid Stuff
Holiday Season
Get Well
Missing You
Congratulations
Hello
Loving You
See You Soon