Featured Cards

Frequent Flyer Funnies
Free Award Flights
MY Dad Has More Miles...
Who Gets the Miles?
The Greatest Program
How Many Miles is it to Stay Home?
Grocery Miles
Press "F" for Flyer
Santa Miles
Off-Peak Awards
Competition for Upgrades
The Fine Print
Wanting Upgrades
Space Awards
Elite Security Check-Ins
Only 274 More Nights...
Was it the Magazines or the Miles?
No Blackouts???
Play... Wheel of Worry!
The Service Center of the Future
Airline New Year's Resolutions
Elite-Level Extension
Golfing for Miles
The Secret of a Happy New Year
Tattoos
Man and Wife
Miles for Flowers
The House of Miles
It Would Have Been Better, But...
New Arrivals
Double Miles for Cancelled Flights
Money'll Get You There Faster
Miles to Pay Taxes
Award Redemption Desk
Happy Birthday Frequent Flyer Programs
Upgrade Man
Which Card Should I use?
Upgrade With One, Earn With Another
Airline Partnerships
Vegas Miles
Casino Miles
Mergers - Change of Heart
College Miles
FlyerTalk's One Year Anniversary
Who Wants to be a Mileage Million Air?
Frequent Collateral
Business or Leisure?
Give Blood, Get Miles
Got Your Tax Refund?
Taxing Miles
Frequent Flyer's Last Request
The Competition for Upgrades Intensifies
Palm Miles
Gone in 60 Seconds
Future Million Milers
Frequent Flyer National Election
Frequent Flyer Political Party
Bartering Miles
Million Mile Sweepstakes
Ask Santa
How Many Miles...?
Can't Pass Up Triple Miles
Voted Off the Island
Requalify Your American AAdvantage Status
Million-Mile March
The Way It Is and the Way It Ought To Be

The Yellow Brick Road
When Elves Go Bad
Frequent Flyer Marketing 101
Focus Group
The Most Chaotic Thing in the Universe
Vision Test
Can of Worms
Triple Miles on Frankincense
Off-Peak Award Travel
Mileopoly
The Mileage Runner
By Court Decree
You're Fired!
Do you take...
Target
Stay At Home
Delta Restructuring
Threat Level Red
Do you accept...?
Program that Saved an Airline
Attention, Passengers!
Popular Destinations...
Points?
1,000,000 Monkeys
Security Check-In
On Strike
Only 274 more nights...
Bankruptcy and Miles
Frequent Flyer Insurance
Delayed Redemption
Romantic Gesture?
Mitigating the Pain
Tug of War
Stay Home
Eye of the Beholder
Chaos Theory
Strike
Good News, Bad News
Resolutions
Stages of FF Grief
Buzz Words
Patience Plus
Among the Elite
Travel Quiz
The Loyal Public
Happy Thanksgiving
Winning Bid?
Good 'Ole Days
Blessed Unions
The Cost of a Free Ticket
Dream Deferred
Beside the Point
Me and My Shadow Economy
OfFEErings
Hair Today, Miles Tomorrow
Disappearing Act
Santa Miles
Musical Award Seats
Will Work for Miles
Box of Chocolates
Tax Rebate
Oscar Awards
What's Up Doc
New Name
New Book
Your Turn
Passed Out
Mr. Carnac
Original Mileage Run
Airport Security
Santa Fees
Road Runner
Grief Counseling
Possible Merger
Honeymoon in First
AA Lifetime Elite
Promotions Graveyard
Miles on Credit
Elite Turkeys
Santa's Upgrade
Hidden AAdvantage
Upgrade Claus
New Year Kiss
Endangered Species
MegaDo's and Don'ts
A Taxing Thought
The Freddies Return
Wild for Wisconsin
The Freddies Return
Hidden AAdvantage
Winning by a Mile
New Year
Up, Up... and Away
Battle for Milwaukee
American Merger
Jeopardy
Bargain Fees
Future Awards
Arctic Award
Fortune Teller
I Object!
Baseball Miles
Letter to Santa
Letter to Santa
Turkeys
Good Luck New Year
Candy
March Madness
March Madness
It's Alive!
Fees Fees Fees
Friends Without Benefits
Numbers Game
Good Ol' Days
Where There's a Wil
Where There's a Will
Holiday Flyers

Back to the main menu...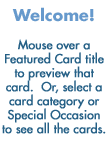 Choose an Occasion
Birthday
Kid Stuff
Holiday Season
Get Well
Missing You
Congratulations
Hello
Loving You
See You Soon